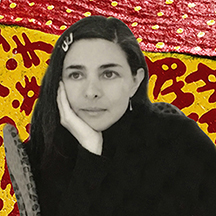 Elisa Pritzker is an Argentine born American artist working in two- and three-dimensional art along with installations. She has exhibited at MoMA, Queens Museum, Dorsky Museum, Skirball Museum, Akin Museum, Espronceda Barcelona, K-Salon Berlin, in large and small group exhibitions. Throughout her career she has had the privilege of being featured in many solo exhibits at various museums
and art spaces such as the Hudson Valley MOCA [formerly HVCCA Museum], Hammond Museum, Saletta Kinzica Art Gallery in Italy, Casa Argentina in Jerusalem, Arte x Arte/
Luz & Alfonso Castillo Foundation in Buenos Aires.
Pritzker participated in the 2015 Jerusalem Biennale and 2015/16 Iceland Biennale. Her art was included at the Affordable Art Fairs in New York City and London UK, London Biennale/Creative Village Medienparty in Berlin Germany, Pinta Fair New York City, Fountain Art Fair New York City, and arteBA in Buenos Aires. She was selected as the
US artist representative for The Pyramids of Naxos environmental art project at the
2004 Greece Olympics. From 2004 to 2012, she was represented by Franklin 54 Gallery
in New York City. Currently, she exhibits with several galleries and institutions not only
in the United States but abroad.
Collected privately worldwide, Pritzker's artwork is in the permanent collections of Jean Cherqui Art Collection, Paris & New York; Brooklyn Art Library, Brooklyn New York; Dorsky Museum, New Paltz New York; Argentine Consulate, New York City; Jerusalem Biennale, Jerusalem Israel; Iceland Art Biennale, Iceland; Wiseman Gallery/Rogue Community
College, Grants Pass Oregon; SUNY Ulster, Stone Ridge New York; The New York Eye &
Ear Infirmary, New York City; Global Art Project, Tucson Arizona; Luz & Alfonso Castillo Foundation, Buenos Aires; Espronceda, Barcelona Spain; Drukpa Barcelona, Spain; and Hammond Museum, North Salem New York.
Among many publications, Pritzker was featured on the PBS Channel, CNN-in Spanish, Huffpost [Huffington Post], Chronogram Magazine. Her work was mentioned in Hyperallergic several times and her
Ecléctica Store
was showcased in the New York Times.
Brian K. Mahoney, Chronogram Magazine editor writes
:
"Born in Argentina, Elisa Pritzker has made the Hudson Valley her home for over 20 years, and has helped to shape the evolution of the regional arts scene in that time, first with the Highland Cultural Center, a multidisciplinary arts organization, then through the Pritzker Gallery at Casa del Arte, and through her own work. Pritzker has received two Congressional Service Awards from Rep. Maurice Hinchey in recognition of her contribution to the cultural community. An artist at home in a variety of media, Pritzker has exhibited across the US and the globe. The Gothic Art Paper, from her "Lonely Hearts Club" series, will be shown at the Art Complex in Tokyo later this year. In May, Pritzker will exhibit a solo show on environmental themes, "Project Fresh Green," at the Mill Street Loft in Poughkeepsie…" February 2009